To celebrate the 20th anniversary of Alien Hominid's first debut here on Newgrounds, I'm hosting an art collab!
Here is info on joining:
-I will be PMing people soon to ask them if they'd like to participate.
-Feel free to PM me if you wanna join and I'll see if you can join!
RULES:
-Your submission must relate to the Alien Hominid game.
-Your submission must not contain or relate to NSFW at all.
-You can't submit traces. Sorry I know there's a lot of cool images but tracing simply isn't allowed. If you wanna redo original source material, try to add more things(and reference original source material).
I'm publishing it as a gallery kind of like the halloween art collab. I'll be the one programming also :)
Deadline is July 16, you have a lot of time in my opinion.
If you have any questions, PM me :)
UPDATE 01-12: THE BASE ENGINE IS COMPLETE! I just need to add the funny lil side feature and it should be good.
UPDATE 01-13: The engine is fully complete, and using a simple joinscript, I can generate URLs from the image name itself! :)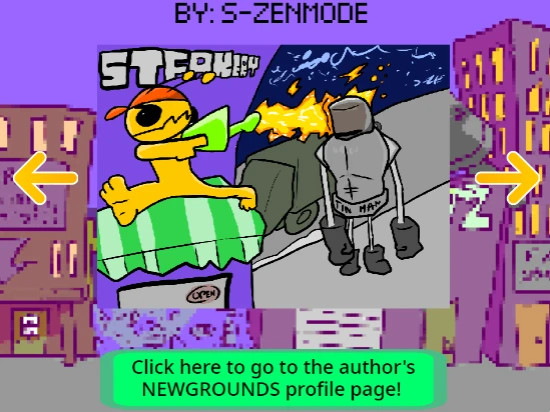 I'll all some improvements to make it look better. Also the background moves :)
BY THE WAY IT WILL SAY YOUR NAME ON YOUR SUBMISSION. THIS ONE SAYS S-ZENMODE BECAUSE THAT ONE IS MY ART PIECE SORRY FOR CAPS LOL